Recreation is the primary use of Philbrook Lake and the surrounding area which provides fishing, camping, boating, swimming, and picnicking opportunities.  Three developed public recreation facilities are present; a boat ramp, campground, and a day use
area, all located on the north side along the County Road.  The boat ramp provides a small cement and gravel boat ramp, parking spaces, and a pit toilet. The campground has 20 campsites and averages ~50% occupancy during summer weekends and 100% on holidays. The picnic area, which is used regularly, provides picnicking facilities as well as shoreline access for fishing and swimming.
Winter recreation is surprisingly busy and includes over-the-snow 4-wheeling, OHV/snowmobile use, XC skiing and occasional ice fishing.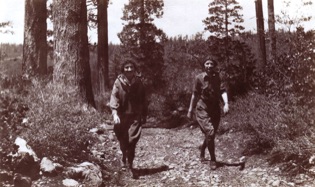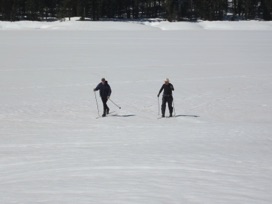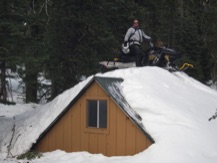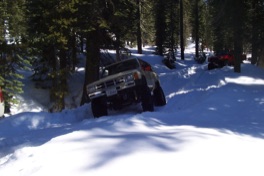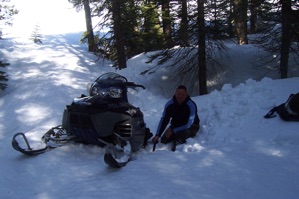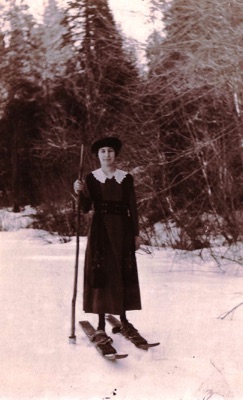 The three developed recreation access/facilities are PG&E-owned and operated (by a contract concessionaire) but are located on public land managed by the Lassen National Forest.  The Lake supports brown and rainbow trout, but ices over in winter while at minimum pool.
 The Department of Fish & Game stocks the lake with fingerling trout in some years.  The lower portions of the exposed lakebed are muddy and some of the upper portions develop some grass cover while exposed.   Boat-access is dependent on water levels and associated access via the boat ramp.  OHV use is popular in the area and many campers bring their OHVs to Philbrook.
Philbrook is a destination specifically for the outdoor recreation opportunities.  Preserving and enhancing of the recreation opportunities (fish habitat included) at the Lake
is important to everyone.   Primary activities are focused on public education so that current uses do not damage the resource and corresponding public benefits.  If a present use is not sustainable (over-use or abuse) PCA members work to see that those actions are curtailed.  PCA members are not law enforcement so public education is the obvious course to improve and enhance the resource.   PCA represents the everyday "boots on the ground" and regularly discusses conservation objectives with all recreational users.  Typical examples include OHV use in the lake bed, which is illegal because of the erosion impacts, as well as encouraging catch and release of the wild Brown trout to enhance the fishing for everyone.  This public education effort clearly is helping.   OHV use in the lake bed has been significantly reduced and the population of native Browns appears to be increasing.